Brands
The Leaders of Design & Innovation
Meet the companies that we call partners. They form the foundation of our product specifications thanks in part to their best-in-class performance, breadth of product offering and ongoing technological innovation.
Over the last 40 years, Audio Control has focused on "making good sound great" through their lines of amplifiers, receivers and preamplifiers. Unlike some other audiophile brands on the market, Audio Control does not just focus on amped-up specs. Their goal is to improve customers' lives by delivered stunning audio the lets them recreate a concert hall or theater environment in their own home. As the heart of your home theater, their receivers deliver fully immersive sound as well as 4K video resolution. Knowing how important it is to get high-performance audio beyond a few dedicated rooms, they have a full line of multi-zone amplifiers that deliver excellence throughout your house. Even outdoor applications aren't out of the question with their powerful line of 70-volt amplifiers.
Underlying all of Integra's high-end products are the two pinnacles that define them: passion and excellence. Committed to delivering flawless audio through expert design and construction, Integra learned early on how vital installation is to the end result as well. Not only are Integra products ideal for traditional 2-channel audio, but they stand out for their smooth integration into home theater and multi-zone systems as well. Realizing that ease-of-use and installation is just as vital as the components' audio quality, all Integra products are designed to fit seamlessly into custom AV projects. Explicitly geared for personalized applications, Integra partners with AV specialists to deliver unprecedented quality for audiophiles and movie lovers through its line of receivers, amplifiers, soundbars and more.
Enjoy personalized, American-made speakers and sound sculptures that look as beautiful as they sound when you choose Leon. Each audio solution is an elegant balance of stunning design and innovative technology, delicately manufactured in a way that helps reshape the way people experience culture. The Michigan-based manufacturer is widely known for their award-winning sound and unrivaled level of customization, building speakers by hand and to your exact specifications since 1995. Choose from their collection of custom soundbars, ceiling and wall speakers, outdoor speakers, and even elevate the design of your TV displays with Leon's handcrafted media décor products.
Inventors of the solid-state dimmer in 1959 and now holders of 2,700 worldwide patents, Lutron has expanded their product offering to more than 15,000 products. Lutron makes it possible to craft the perfect atmosphere at home or in the workplace to complement your day-to-night activities with personalized lighting and shading control for enhanced comfort and productivity. Recall your favorite settings from a master keypad or remote to easily transform your environment with just a tap or set your lights and shades to adjust on their own so you can focus on the activity at hand. From the workplace to the home, Lutron provides sophisticated solutions for custom lighting and shading that operate seamlessly at your command.
Origin Acoustics leads the industry in high-fidelity architectural speaker solutions that redefine your auditory experience. Enjoy pristine sound from any angle in your home or business with Origin's in-wall and in-ceiling speakers that intelligently pivot to focus the sound at the designated listening area. As a certified Origin Acoustics dealer for properties in Willow Glen, Woodside, Atherton and surrounding CA, we make installation seamless, accomplishing sightless audio from discreet grilles that blend into your décor and deliver astonishing sonic performance when you want it. From your bedroom to your yacht and even the outdoors, Origin has a delicately crafted speaker system for any place you desire.
Origin Acoustics leads the industry in high-fidelity architectural speaker solutions that redefine your auditory experience. Enjoy pristine sound from any angle in your home or business with Origin's in-wall and in-ceiling speakers that intelligently pivot to focus the sound at the designated listening area. As a certified Origin Acoustics dealer for properties in Willow Glen, Woodside, Atherton and surrounding CA, we make installation seamless, accomplishing sightless audio from discreet grilles that blend into your décor and deliver astonishing sonic performance when you want it. From your bedroom to your yacht and even the outdoors, Origin has a delicately crafted speaker system for any place you desire.
As the first home automation company to embrace mobile technology for control inside and outside the home, Savant is a leader in innovation. The brand helps to cultivate the ultimate luxury lifestyle with personalized control of your entire home, business or yacht from an intuitive mobile app, high-resolution touchscreen, elegant remote or by voice activation. As a certified Savant dealer, we offer users the unparalleled convenience of controlling your lighting, climate, entertainment, pool and spa, security and more from a single platform no matter where you are. Set distinctive scenes that mold to your every mood and transform your home into a coveted entertainment hotspot at the touch of a button. Whatever you imagine, Savant can help make it a reality.
Delight your senses with professional-grade home entertainment solutions designed to harmonize both picture and sound for a breathtaking, true-to-life experience. Unprecedented contrast, color and realism are made possible with Sony's proprietary technologies that also lead in pixel-by-pixel detail for texture you can practically feel. Whether you're outfitting a multi-purpose media room or a dedicated private cinema, Sony's line of premium 4K HDR projectors and TV displays, AV receivers and high-resolution speakers work in tandem to craft the immersive experience intended by film and video game creators.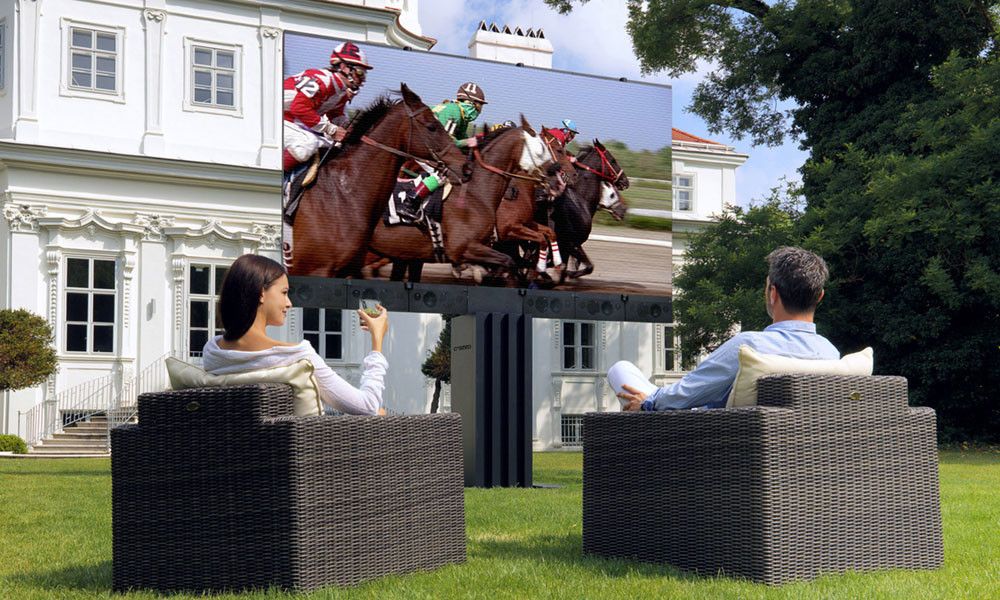 Embrace minimalist design and cutting-edge technology with C SEED Entertainment Systems. The Austrian-based company was founded in 2009 by two former Bang & Olufsen managers and has since revolutionized the way we look at AV installations. Their first product in 2013 reimagined the traditional TV display with a style-centric solution: The Unfolding TV. Out of the ground emerges a black column that expands to feature a 4K 219-inch display. For its next innovation, C SEED took the magic outdoors with the first outdoor LED TV, which emerges from its underground casing to a height of up to fifteen feet and a 201-inch screen size. Not only does C SEED stand out in the display categories through its trademark microLED technology, but it boasts luxury outdoor speaker systems as well.
DMF is a nationally renowned company famous for designing and manufacturing easy-to-use downlighting solutions for residential and commercial environments. 30 years after it was founded out of a garage in southern California, it now boasts a national chain of warehouses and suppliers to deliver stellar LED lighting solutions wherever they're needed. Having the right light quality is vital to creating successful environments for work, relaxation and play. Easy-to-use OneFrame, SquareFrame and DCD modular mounting systems allow for varied designs featuring recessed, surface mount, wall mount, cylinder and pendant fixtures. Enjoy the perfect indoor and outdoor lighting for any occasion with fixtures ranging from 750 to 9000 lumens and warm dim technology that lets you enjoy the entire light spectrum of cool and warm hues.
Established in 1999 by audio engineers and craftsmen, James Loudspeaker takes pride in its commitment to innovation when designing high-performance audio solutions. James Loudspeaker offers lines for luxury homes, marine applications and enterprising businesses alike. Through cutting-edge technology and flawless designs, their products provide unprecedented sonic performance in both indoor and outdoor environments. James Loudspeaker solutions emphasize aesthetics to deliver powerful sound while having a minimal presence in the space. Loudspeakers from all lines include ultra-slim driver technology, adjustable frequency distribution and quad-tweeter arrays. All James Loudspeaker customers receive personal support to ensure a solution that satisfies all of their needs and preferences. Choose from a wide range of in-wall, in-ceiling, under eave, landscape, bookshelf and loudspeaker models.
Discover the height in high-performance sound with JBL Synthesis loudspeakers trusted by recording artists worldwide. Since its foundation in 1946, the Los Angeles-based company has been at the forefront of some of the greatest advancements in home audio and surround sound. In collaboration with LucasFilm engineers, JBL pioneered surround sound through cutting-edge THX technologies. Its loudspeakers combine horn-loaded compression drivers, titanium tweeters and precise crossover networks for the most accurate sound reproduction. Varied speaker lines include floorstanding, bookshelf, in-wall and in-ceiling models ideal for any space. Ensure the ultimate quality by pairing speakers with JBL amplifiers available for high-performance and multi-channel configurations. For top-tier sound in any environment, all loudspeakers include the company's ARCO software. This room correction technology offers the ideal calibration and placement to ensure everyone in your theater or listening room gets the same high-level sound.
JL Audio is a consumer and professional audio manufacturer focused on delivering unique engineering, superior quality and high-performance audio to sound enthusiasts around the world. JL Audio was founded in 1975 on the belief that great audio has real value and that their discerning customers can "tell the difference." The Florida-based company is known as one of the pioneers of the car audio industry and is also active in the marine, home, mobile and powersports markets. JL Audio is particularly famous for their subwoofers, which have received the highest accolades from audio reviewers and demanding audiophiles around the world and feature proprietary, patented technologies that require unique assembly techniques. Nearly all JL Audio speaker systems are built in the United States and overseen by production and logistics professionals who make sure every product maintains the company's high-quality standards.
The engineers at Meridian Audio have set the industry standard for innovation and perfection, going beyond the ordinary with audio solutions designed to transport listeners into a new world or your favorite concert hall. Since Meridian Audio was founded in 1977, they've transformed the way people experience sound. From their flagship loudspeakers to their subtle in-wall applications, the British company offers the tools to craft immersive, high-performance sonic environments. With ongoing research of the psychology behind sound as well as the intricate science behind speaker design, Meridian Audio tailor their high-resolution solutions to each client. Their commitment to excellence every step of the way has made them the go-to partner for luxury brands across the globe, including Jaguar and Land Rover.
Elevate your expectations of home entertainment with Samsung's most innovative and advanced range of televisions that offer an impeccable visual and auditory experience for film and gaming enthusiasts alike. Samsung's proprietary Quantum Processor is the mastermind behind their unrivaled QLED 4K and 8K TVs that display a depth of detail, contrast and realism never seen before. Even when not in use, Samsung displays add beauty to your home by transforming into framed artwork or blending into the decorative pattern on your wall, elevating your space while turned on and off.
Revel in the perfect harmony of design and technology with Séura's award-winning line of smart mirrors and TV solutions for your indoor and outdoor spaces. Improve your morning routine with Séura SMART technology that incorporates seamlessly into a custom vanity for total home control at the touch of your bathroom mirror. Elevate your living room with intelligent 4K TV displays that disguise as beautifully framed mirrors when turned off. And see yourself in the best possible light with elegantly lighted mirrors that illuminate your bathrooms without the need for cluttered sconces and light fixtures. Certified as a Woman-owned Business Enterprise and with all products manufactured in Green Bay, Wisconsin, all Séura products get to wear the badge of Made in the USA by American craftsman.
A leader in the projection screen industry, Stewart Filmscreen Corporation combines elite function, value and quality in all of their products. For 70 years, their extreme attention to detail has resulted in some of the best display solutions for home theaters, digital signage and conference rooms. The designers at Stewart Filmscreen Corporation reject the one-size-fits-all mentality. Whether you need to adapt your screen to ambient lighting, rear projection or an office workflow, Stewart Filmscreen Corporation delivers the ideal model for any application. Their display inventory includes 25 different screen materials, custom-built for each installation. Their brightness and color uniformity make them the go-to company for post-production work by major movie companies and the only screen manufacturer company with two Academy Awards.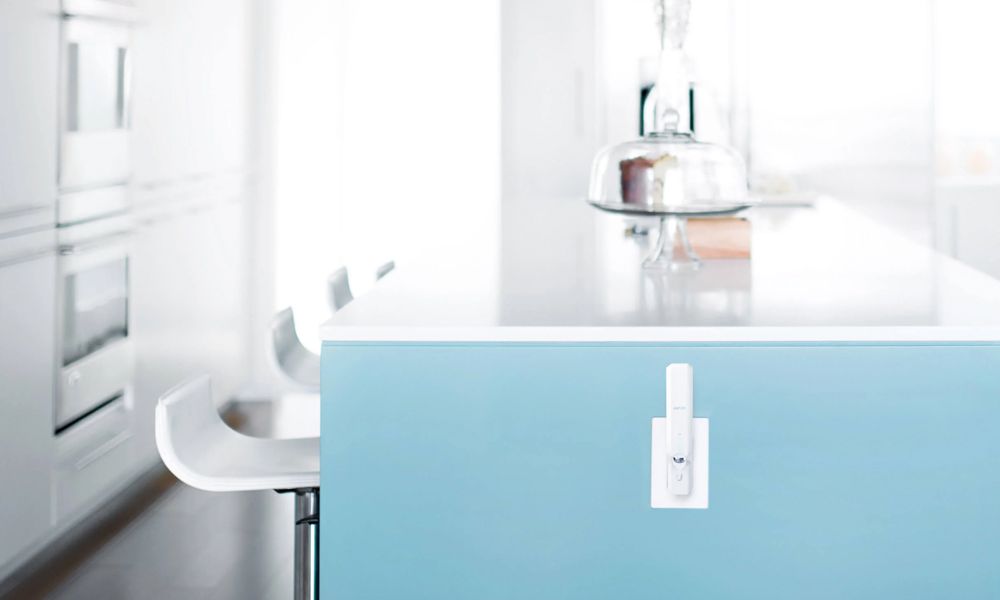 Founded by former Apple engineer Robert Pera in 2005, Ubiquiti is committed to connecting everyone to everything, everywhere. Ubiquiti develops high-performance networking product platforms ranging from long-range wireless equipment to reliable home routers, as well as software and internet services that transform organizations for the internet economy. A global leader in managed wi-fi systems, Ubiquiti networking solutions excel even in the most demanding of environments. Whether you're interested in high-capacity distributed internet access, unified IT solutions or next-gen consumer electronics for the home, you can expect superior performance, clever mechanical design and ease of use every time. Ubiquiti is headquartered in NYC but has several office locations all around the world.
Verkada security systems use advanced AI-powered analytics to monitor and search footage quickly. Receive proactive system alerts when actionable events occur, and use cloud-based access control to provide real-time visibility across multiple sites. Environmental sensors track changes on your premises that help you to make insights and keep your employees and clients safe. Discover the customization options that Verkada has to offer.
Based in Carson City, Nevada, Wisdom Audio delivers high-performance sound without the clutter through their architectural in-wall and in-ceiling speakers. Only available through highly vetted dealers since it was founded in 1996, the company also specializes in calibration services and dedicated home theaters. Each product delivers power and precision for the ultimate sound reproduction. Wisdom Audio leverages film planar magnetic transducers, electronic crossovers and unique woofer designs to surpass the performance of traditional speakers. Employing a wide range of in-ceiling and in-wall speakers, they offer a model for any application. Even the most advanced audiophiles have something to choose from with their super sleek Sage and Wisdom free-standing speakers. Make the most of your new speakers with their expert calibration services, which help with speaker layout, subwoofer analysis and overall design based on your space.
Start Your Journey to Smarter Living
Connect with us to learn more about how these industry-leading brands work together to create your dream smart home or business.